With inflation so high, how can we support our educators?
---
Keeping and attracting educators in Anne Arundel County has to be the #1 priority across sectors. How else will our students receive the world class public education they deserve? With approximately 200 vacancies, and recruitment expected to be 14% less than previous years, increasing educator salary and investing in our public schools is the best way to ensure we keep the educators we have.
County Executive Pittman and Superintendent Bedell agree!
---
Funding a 6% Cost of Living increase and 1 step for all eligible employees is how we can ensure our educators are best able to help our students succeed.

However, where our leaders differ is on the other funding priorities. Dr. Bedell's budget proposal passed through the Board of Education, and included a request for funding of the EEE program in the Old Mill Cluster, additional Special Educators and mental health professionals, and more staff to support our students. In order to fully fund the public education budget as proposed, the County Council will pass the following changse to the tax structure:

According to the budget announcement, "This budget makes no change to income tax rates for 98% of our taxpayers. For the 2% of individual filers who report taxable income above $400,000, and joint filers above $480,000, a new rate will be set at 3.2% for dollars reported above those levels."
"This budget adjusts our property tax rate from 93.3 to 98 cents per $100. That puts us 2 cents lower than it was in 1990 and makes us the only central Maryland county below $1. This generates $68M annually, allowing us to address urgent needs in education and public safety."
When
May 23, 2023
5:00 pm - 6:00 pm
By the Numbers
Visit https://www.aacounty.org/fy24budget for the latest information!
Let's talk now about what these dollars mean for our future – for our children, our families, our beloved local institutions, and our environment.

I will start where we must always start – the education of our children. pic.twitter.com/XnoWlLn7Ea

— County Executive Steuart Pittman (@AACoExec) May 1, 2023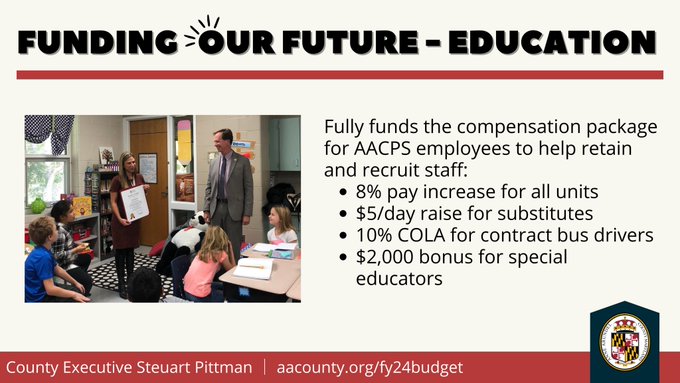 "Dr. Bedell, our Board of Education, and dozens of teachers, parents, and students sent us a clear message about what it will take to fill our vacant positions at AACPS. We need compensation that is competitive with neighboring school systems," said County Executive Pittman during his budget address.
In addition to fully funding the proposed compensation package shown here (to be negotiated by our bargaining team), Pittman proposed funding for 45 pre-k staff, 14 English language staff, 15 social/emotional health positions, 23 alternative transportation program drivers, and 13 positions to prepare for the opening of Old Mill High School & West County Elementary.
He continued, "After meeting recently with our AAWDC  team, I am thrilled to be investing the Blueprint-mandated $5M in career counseling for students up to tenth grade. For many kids whose hearts and minds are elsewhere, this program offers a future – a reason to be in school."
---
RSVP for the Press Conference